Gone are the days when it was difficult for large firms to manage information with ease and provide satisfactory customer support at the same time. With the introduction of PHPKB Knowledge Base Software, things has become altogether easy. Now, businesses, whether big or small, can manage, store, share, transfer and access their information with much ease.
Customer Support
There is no disputing the fact that 'providing excellent customer support is the key to success' and that is what PHPKB Knowledge Management Software focuses on. Savings increase up to 30% in terms of customer-support, decision-making ability enhances by almost double than before and new products are developed 20% faster than earlier. Customers get quick and better solutions to their queries. More feedback are received and staff works upon them quicker to make the business products/solutions/services better all the time. With simplified interface, employees require lesser time to get trained than before. In addition, they are able to look for the required information through various files/documents much faster. Furthermore, the system makes sure that there is preservation of intellectual property, i.e., information is not lost when an employee resigns or is fired. There is an increase in the work quality and improvement in the decision-making process. SEO friendly URLs improve search engine rankings for knowledge base items (articles, categories, news etc.) PHPKB Software has been designed to encourage users to search your knowledge base thoroughly before reporting any issues. Usually, customers skip searching the KB before raising a support query. The 'Instant Question Suggestions' technology of PHPKB software provides instant knowledge-base suggestions as your customer drafts their inquiry. This prevents duplicate questions (support tickets) & helps reduces your inbound support. It is also possible to search within the content of attached documents (in DOC, PDF, DOCX, TXT, HTML, XML, CSV, PPT, PPTX, XLS, XLSX formats).
Knowledge Base Management Software
PHPKB Knowledge Management Software is a web-based system and can be implemented with ease, thanks to its super-quick installation wizard and user-friendly interface. You will no longer need to worry about management of information/knowledge in your firm along with ensuring safety and security of the same. Whether a big firm or small, university or government organization, this useful system is designed to cater to everyone's need. The interface of this system is multilingual, thus you can setup your knowledge base in multiple languages and your end-users can access it in the language that they understand the best. Moreover, you need not worry about updating the software from time to time. You will be notified about updates in your customer area whenever a new version of the software is available.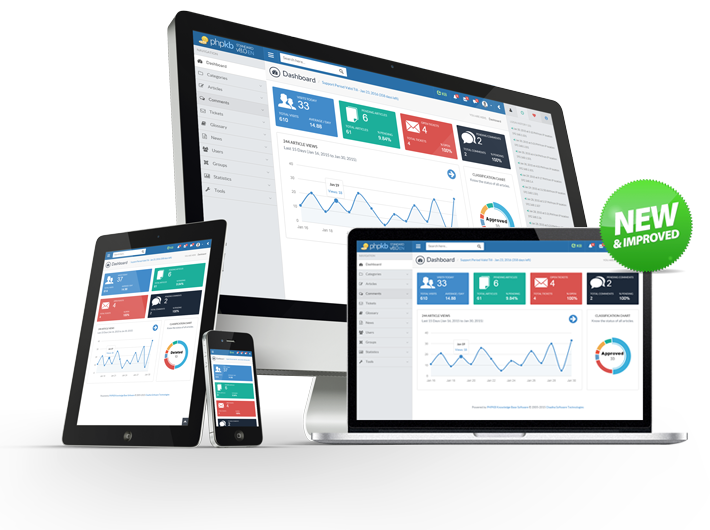 The software comes in 6 editions listed below.
PHPKB Standard (English) Edition
PHPKB Standard ML (Multi-Language) Edition
PHPKB Enterprise (English) Edition
PHPKB Enterprise ML (Multi-Language) Edition
PHPKB MS SQL Server Enterprise (English) Edition
PHPKB MS SQL Server Enterprise ML (Multi-Language) Edition
Available License Types
PHPKB knowledge management software is offered in two forms: owned (local) or hosted (managed) installation. Owned version allows you to download and install the software on your own server, while hosted version (cloud license) is installed on our server and we deal with the setup and maintenance of your knowledge base on our server.
Learn more by exploring the benefits of knowledge management software or have a look at the detailed list of knowledge base software features.
Want to see PHPKB in action? Check out the free online demo.